Bentley has hit out at the Balance of Performance for this weekend's Spa 24 Hours after none of its four factory cars qualified in the top 20.
Bentley motorsport boss Brian Gush questioned a 20kg swing in minimum weight for this weekend's blue-riband round of the Blancpain GT Series between the marque's Continental GT3, the Mercedes-AMG GT3 and the Audi R8 LMS.
"It is is a little bit difficult to understand, because when we won at Paul Ricard last month, we didn't have the quickest car," he told Autosport.
"We've gone up 10kg and the Mercedes and the Audi have gone down 10kg, and a 20kg [difference] is a lot around Spa.
Jules Gounon, the quickest driver in the #107 Bentley that qualified 21st, claimed that the BoP change had made a significant difference.
"The BoP has really hurt us here — the car feels good but we don't have the pace," he said.
Gounon's best time was seven tenths off the fastest lap qualifying lap on Thursday by Yelmer Buurman in the factory Black Falcon Mercedes, which went on to take pole on Friday in the superpole session in the hands of Maro Engel.
The other M-Sport Bentleys will start the race in 32nd, 36th and 49th positions.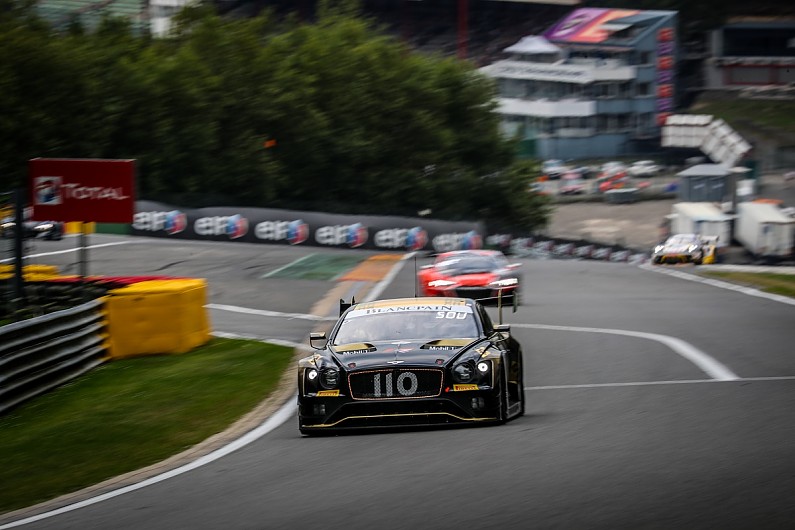 Gush conceded that the weather conditions on Thursday evening when the four M-Sport Continentals failed to make it through to the superpole session for the top 20 cars were a contributory factor in the lack of pace.
Turbocharged cars such as the Bentley were handicapped because the Stephane Ratel Organisation, which runs the BGTS, sets a baseline barometric pressure for the meeting above which the boost curve for the turbo cars is set.
The figure put out by SRO reflected the lower pressures expected for the weekend rather than the weather system that resulted in temperatures of nearly 40 degrees Celsius on Wednesday and Thursday.
SRO technical director Claude Surmont estimated that this cost Bentley and 2018 Spa winner BMW, which also failed to get a car into superpole, approximately 10bhp.
He stressed that not all turbo cars were affected in the same way, which explained why two Ferraris and one Nissan made it through the first round of qualifying.
"Claude will say it's all down to the barometric pressure and I'll say its all down to the weight," said Gush.
"The truth is somewhere in the middle; the weight is a big part of the seven tenths we were missing."
Gush admitted that the poor qualifying showing by Bentley as it bids for a first Spa victory with an expanded four-car factory assault in its centenary year "wasn't a disaster".
"This is a 24-hour race so qualifying isn't all-important: last year one of cars started from the pitlane and was leading inside a few hours," he said.
"But it's always good to get through into superpole and show what you can do, so our heads have dropped a little bit."