Toto Wolff says the Mercedes Formula 1 team was "bruised" by a German Grand Prix that turned into an "armageddon" weekend.
Lewis Hamilton and Valtteri Bottas ran first and second in the first half of the race, but Mercedes' day unravelled when "a multitude of things" went wrong.
Hamilton damaged his car after crashing on slicks as rain intensified, and was left stranded during an unplanned stop as his crew scrambled to replace his front wing and fit new intermediates, then served a five-second penalty at a subsequent stop for entering the pitlane the wrong side of a bollard after his off.
Bottas lost ground at the final round of pitstops, but had been in the hunt for a podium when he crashed while pursuing Lance Stroll.
Asked how embarrassing Mercedes' home race was, given its '125 years of motorsport' celebrations and its granting of access to Netflix's 'Drive to Survive' F1 documentary crew for the first time, Wolff replied: "I'm not going to give you a headline. It was a terrible day for us.
"Should I actually respond to you when you give me such an answer?
"It was a really difficult day, everything started well at the beginning, and then obviously it was tricky for me to make the right call, and I think it was borderline whether to change tyres or not, but that can be justified.
"But obviously like Charles [Leclerc, who crashed at the same spot a lap earlier], Lewis put the car in the wall. It was difficult to come in around the bollard, so that was the penalty, and then we made the wrong call with the tyres, tyres were not ready.
"And from then on we were on the back foot with Lewis, all the time.
"You're using the word 'embarrassing' – no, it's not embarrassing, it's motor racing.
"And sometimes you've got to take a slap on the nose, on the chin as you say, and just learn. These are the days that make us better.
"We've got to think about what went wrong. And then if things come together, like with Valtteri crashing out at the end, which was not great… this ends in an Armageddon weekend for us.
"And whether we are celebrating 125 years, have the board here or the Netflix guys, plays no role at all, probably we've given them more content than on any other normal weekend."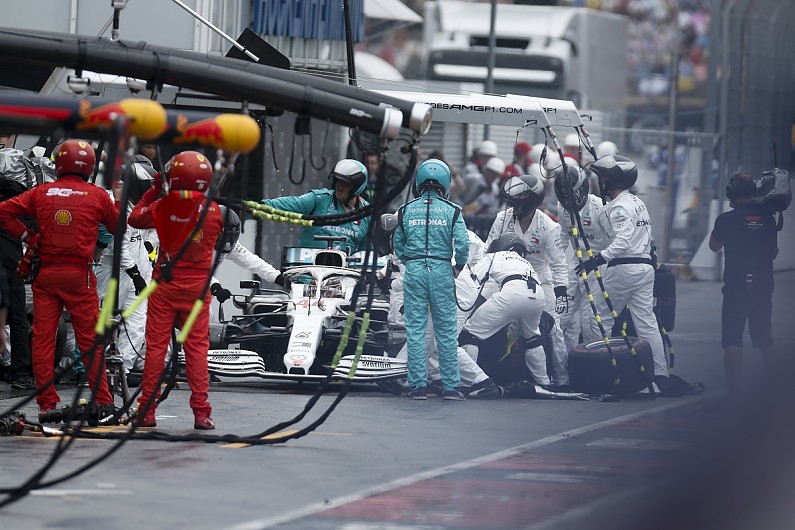 Hamilton was promoted back into ninth post-race when both Alfa Romeos were handed 30-second penalties.
Wolff conceded the decision to pit Hamilton for slicks before his crash and subsequent switch back to intermediates was "the wrong thing to do" in hindsight, but added he did not want to blame that moment for Mercedes' defeat.
"It's one thing if the race goes against you and you're losing a car, or you're crashing out, you haven't done your best – but with both cars not in the points, one out, one DNF, I think it's fair enough to be bruised now," he said.
"Go home and then come back in the office tomorrow and, as I said, these are the days that made us strong in the past, these are the days where you analyse and you scrutinise more than you have done in the past.
"You never go home and say 'why the fuck did we win?', you go home and say 'why the fuck did we lose?'"